Yuzu[柚子 / 柚(ユズ)]
is a citrus tree and fruit and it is said that is native to China and was introduced to Japan in Asuka Period(592-710) or Nara Period(710-794).
Although Yuzu is a kind of citrus tree, that has cold and disease resistance. Yuzu is a slow-growing tree and it takes many years to bear fruits. Yuzu tree has thorns and it is necessary to be careful when harvesting fruits.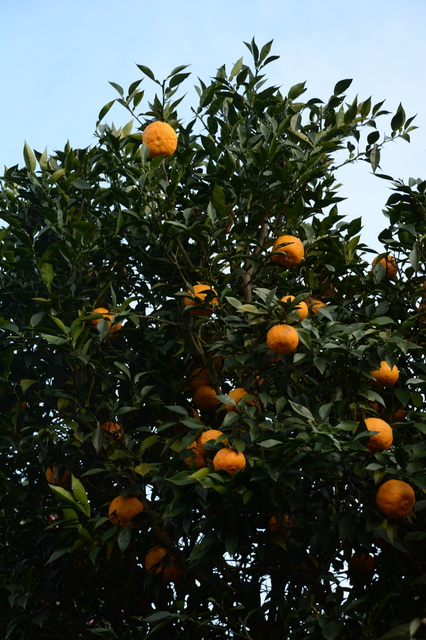 The harvesting season of the fruit is winter. But in Japan, the immature fruits are also used and that is called '
Ao-yuzu[青柚子(あおゆず)]
'(It means green Yuzu) and is harvested in summer.
Ao-yuzu juice is used as a seasoning of dipping sauces and grilled fish is served with Ao-yuzu for squeezing and pouring. And Ao-yuzu is also used for making
Yuzu-koshō[柚子胡椒(ゆずこしょう)]
. Yuzu-koshō is a seasoning of Kyūshū Region and that is a seasoning made from chili pepper and Ao-yuzu peel paste. That is used for adding in a soup of pot dish.
Yuzu is very sour fruit but that has very fresh and good smell. So, the fruit is not suitable for eating as it is and is sometimes made into jelly, juice and jam.
That juice is also used as an ingredient of
Ponzu[ポン酢]
(That is a Japanese seasoning of citrus extract or that added soy sauce). And it is used when cooking a Japanese dish '
Yūan-yaki[柚庵焼き(ゆうあんやき)]
' which is a fish dipped in seasonings such as soy sauce and sliced Yuzu and grilled.
Shredded Yuzu peel is sometimes put on hot
Soba[蕎麦(そば)]
(buckwheat noodle) and when pickling vegetables, that is put on together for flavoring.
Yuzu-miso[柚子味噌(ゆずみそ)]
is a sauce made from
Miso[味噌]
, grated Yuzu peel, sake, etc. That is used as a sauce of boiled radish, taro and
Konnyaku[蒟蒻(こんにゃく)]
(devil's tongue).
In Japan, there is a traditional custom of putting Yuzus in a bathtub and taking bath with them on the day of
winter solstice
. That is called '
Yuzu-yu[柚子湯(ゆずゆ)]
'.
Kōchi Prefecture is a largest producer of Yuzu in Japan and especially,
Umaji[馬路(うまじ)] Village
is famous for that and makes various Yuzu products.