Japan has distinctive four seasons. In winter, snow-covered garden, temple and rural area are attractive.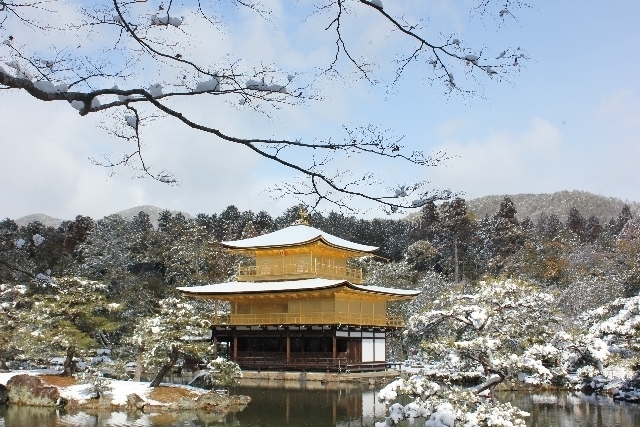 Kinkaku-ji Temple at Kyoto City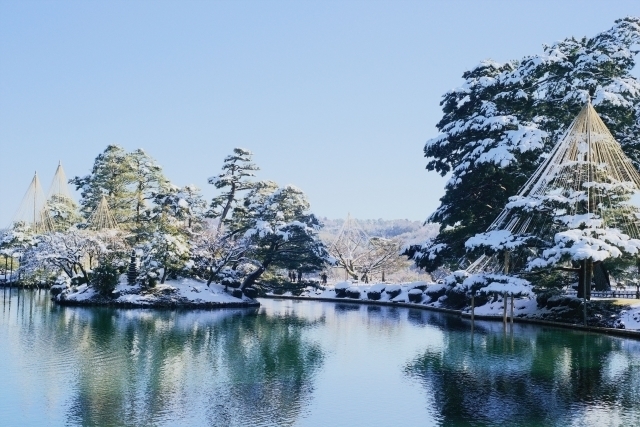 Kenrokuen at Kanazawa City, Ishikawa Prefecture
There is a word "
Seikō-tōtei[西高東低(せいこうとうてい)]
" about typical winter weather of Japan. This means that high pressure stays in the western area and low pressure stays in the eastern area.
In winter, it continues to snow on the Sea of Japan side. There are many places on the Sea of Japan that has designated as heavy snow areas. The snow measures more than 3 meters(9.8 feet) in mountainous areas of Niigata Prefecture such as
Akiyama-gō[秋山郷(あきやまごう)]
&
Matsunoyama[松之山(まつのやま)]
area. And it is dry and clear on the Pacific Ocean side.
Japan is a long country from north to south.
Hokkaidō
is located in the northern part of Japan and that is very cold in winter. The average temperature of
Sapporo[札幌(さっぽろ)]
, which is the capital of Hokkaidō, is about -1℃ in December, about -3℃ in January & February. The climate of
Okinawa Prefecture
, which is located in thesouthern part of Japan, is sub-tropical. Therefore, it is relatively warm there.
And about 73% of Japan's land is mountainous. So, some roads in mountain are closed in winter because of snow. Because of that, it becomes harder to travel by car. But at the same time, we can enjoy skiing and snowboarding all over the place due to the mountains.
On February, snow festivals are held. Among them,
Sapporo Snow Festival[さっぽろ雪(ゆき)まつり]
is the most famous and we can enjoy seeing the statues made of snow. In
Mt. Hakkōda[八甲田山(はっこうださん)]
and
Zaō[蔵王(ざおう)]
, you can see trees covered with ice that is called "
Ice monster
".
⇒
http://www.snowfes.com/english/index.html
I recommend
Onsen[温泉(おんせん)]
(hot spring) in winter. Especially,
Roten-buro[露天風呂(ろてんぶろ)]
(open-air bath) Onsen in snow is very relaxing. And
Jigokudani Onsen[地獄谷温泉(じごくだにおんせん)]
in Nagano Prefecture, there are
Japanese monkeys
taking a Roten-buro and they are famous in the world.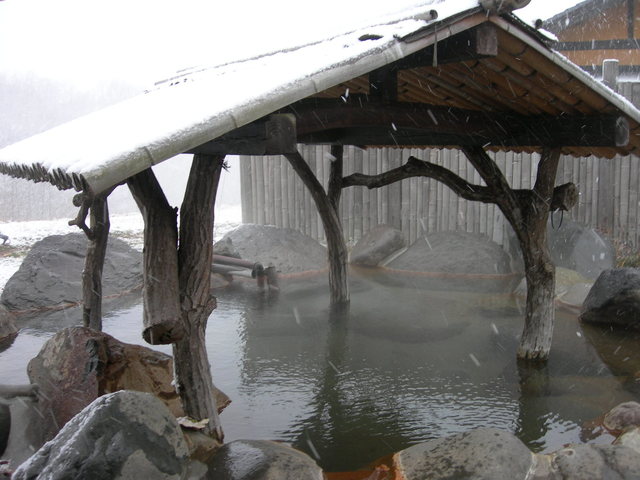 Roten-buro at a Ryokan(Japanese inn) "Takenokura", Hagenoyu Onsen, Kumamoto Prefecture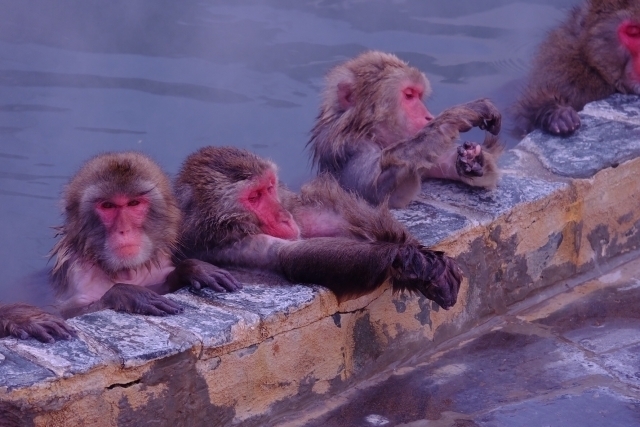 Japanese monkeys taking a Roten-buro at Jigokudani Onen
Winter is the season of seafood such as crab, oyster and globefish. And we can enjoy eating various warming
Nabe[鍋(なべ)]
(pot dish).