Tsubaki[椿(ツバキ)](Camellia)
are some species of tree (and the cultivated varieties) belonging to the genus Camellia of the family Theaceae. But it especially refers to
Yabu-tsubaki[ヤブツバキ]
.
Yabu-tsubaki is native to Japan except
Hokkaidō
, south of Korean Peninsula and Taiwan. The scientific name is "
Camellia japonica
". This is popular as a garden tree and has red, pink or white blossoms from February to March. There are many varieties produced from Yabu-tsubaki and they have various colors and shapes.
Yuki-tsubaki[ユキツバキ]
is also a species of Tsubaki. That lives in the heavy snow areas along the Sea of Japan of north-east
Honshū[本州(ほんしゅう)]
(main island of Japan) and that has red blossoms from April to June.
The blossom is similar to that of Yabu-tsubaki but the stamens of Yuki-tsubaki are entirely yellow while the stamens of Yabu-tsubaki are white and only the tips of them are yellow. Yuki-tsubaki has been designated as a flower of
Niigata Prefecture
.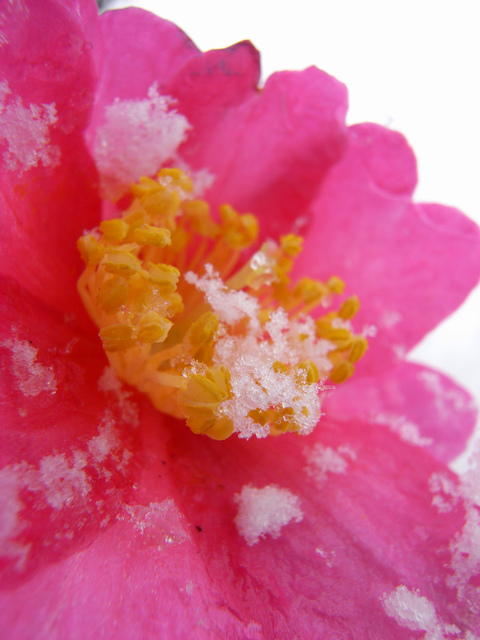 Yuki-tsubaki
by photolibrary
Tsubaki is favored as a flower to decorate the tea room in
Sadō[茶道(さどう)]
(tea ceremony) because that is one of the few flowers which bloom in winter.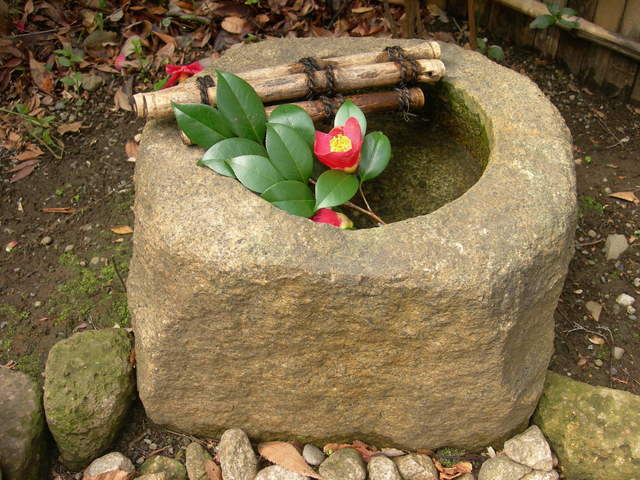 Especially, a species called "
Wabisuke[侘助(わびすけ)]
" is often used. It is said that Wabisuke is a hybrid of Yabu-tsubaki and other Tsubaki. That blossom is smaller than Yabu-tsubaki and that is a single blossom unlike Yabu-tsubaki. Wabisuke is not luxurious, therefore that does not break the atmosphere and harmonizes in the tea room.
By the way,
tea tree
is also a species belonging to the genus Camellia.
Sazanka[山茶花(サザンカ)]
(Camellia sasanqua) is a species belonging to the genus Camellia of the family Theaceae but that is not commonly called "Tsubaki" and these are distinguished.
The blossom of Sazanka resembles Tsubaki but Sazanka blooms earlier than Tsubaki(Sazanka blooms from late autumn to December.) and Sazanka drops each petals when it withers but many species of Tsubaki drops blossom itself. And the leaf of Sazanka is smaller than Tsubaki.
Izu-ōshima Island[伊豆大島(いずおおしま)]
is a famous spot for Tsubaki. And the oil extracted from the seeds is the specialty of Izu-ōshima. The oil is used for cooking and hairdressing.