Takenoko[筍 or 竹の子(タケノコ)]
is a shoot of
Take[竹(たけ)]
(bamboo). Takenoko means a child of bamboo.
Some varieties of Takenoko are edible and Takenoko is popular as a representative spring food in Japan.
Most common Takenoko for eating is that of
Mōsō-chiku[孟宗竹(モウソウチク)]
. This Takenoko is harvested from March to April. It is a little sweet and soft but big. And it has less acrid taste but its acridity increases after it comes out on the ground. Therefore, it is generally dug, where the soil and fallen leaves swell, and harvested.
Other than it, Takenokos of
Ma-dake[真竹(マダケ)]
and
Ha-chiku[ 淡竹(ハチク)]
are also eaten. The skin of Takenoko of Mōsō-chiku is covered with short downy hairs but those of Ma-dake and Ha-chiku have less hair and they can be harvested after coming out on the ground from May to June. Takenoko of Ma-dake has a little bitter taste and that is mainly cultivated in Kansai Region. Takenoko of Ha-chiku has plain and refined taste, and it has less acrid taste but it is generally thin.
Chishima-zasa[千島笹(チシマザサ)]
(a.k.a.
Nemagari-dake[ネマガリダケ]
) also has an edible Takenoko. Chisima-zasa is a species of
Sasa[笹(ササ)]
s which are similar species in the same bamboo subfamily. It mainly grows in the mountains of central Japan. It is very popular as one of
Sansai[山菜(さんさい)]
(wild vegetable) and some people go to the mountains to pick them in the season.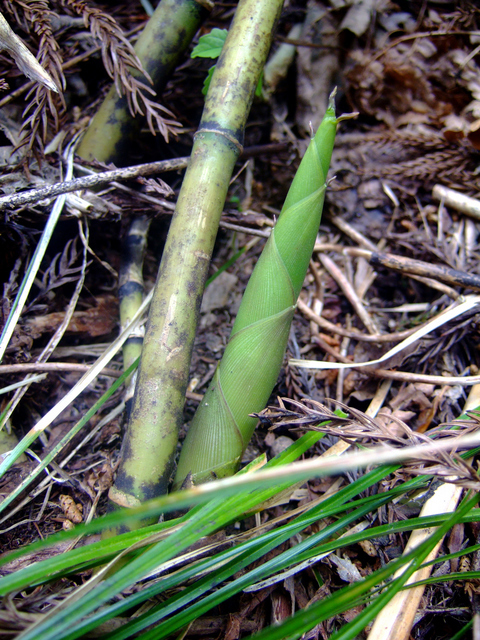 Takenoko of Chishima-zasa
photo by photolibrary
And Takenoko of
Ma-chiku[麻竹(マチク)]
is used as
Menma[メンマ]
(a topping for
Rāmen[ラーメン]
). Menma is a lactic acid fermented Takenoko.
Takenoko contains a few cyanogenic glycosides and that increases over time. Therefore, in the case of unfresh Takenoko, you must boil it with rice-washing water or water putting baking soda for detoxification. But a fresh Takenoko can be eaten only after boiling. That is very delicious, a little sweet and smells like a corn.
As popular Takenoko dishes, there are
Tosa-ni[土佐煮(とさに)]
(simmered Takenoko with dried bonito & soy sauce) and
Wakatake-ni[若竹煮(わかたけに)]
(boiled Takenoko with
Wakame seaweed[ワカメ]
and soy sauce) and
Takenoko-gohan[竹の子御飯(ごはん)]
(rice cooked with Takenoko).
Kyoto is a major production area of Takenoko and it is known as high-class brand.