There are many summer festivals(
Natsu-matsuri[夏祭り(なつまつり)]
) in Japan. Especially, in Tōhoku Region, famous festivals are held one after another.
Among them, most famous and popular festivals are called "
Three Greatest Festivals in Tōhoku[東北三大祭り(とうほくさんだいまつり)]
". They are as follows;
Aomori Nebuta Matsuri is held from August 2nd to 7th every year. It can be said that this is one of the most famous festivals in Japan. In this festival, huge Samurai-shaped lantern floats called "
Nebuta[ねぶた]
" are pulled through Aomori City. Nebuta is also a great art. Colorful Nebutas are lighted at night and particularly beautiful. Dancers called "
Haneto[ハネト]
" dance around Nebuta.
Other than Aomori City, Nebuta festivals are held all over Aomori Prefecture. Especially, the festivals held in
Hirosaki[弘前(ひろさき)] City
and
Goshogawara[五所川原(ごしょがわら)] City
are well-known. Nebuta is called "
Neputa[ねぷた]
" in Hirosaki and "
Tachi-neputa[立佞武多(たちねぷた)]
" in Goshogawara.
Akita Kantō Matsuri is held from August 3th to 6th every year.
Kantō[竿灯(かんとう)]
is a pole with cross poles made by bamboos and
Chōchin[提灯(ちょうちん)]
(lantern)s are attached to that. Heaviest Kantō is as much as 50kg. Each performer walks with Kantō on one's shoulder, head, back, etc. You can enjoy their powerful performance and the fantastic beauty of lighted Chōchin.
Sendai Tanabata Matsuri is held from August 6th to 8th every year. The number of visitors is the largest among the three festivals. During the festival, streets are decorated with gorgeous hanging streamers.
Tanabata[七夕(たなばた)]
is one of five
Sekku[節句(せっく)]
(the turning point of season) and Japanese people decorate
Sasa[笹(ささ)]
(bamboo grass) on which paper strips are hang. Paper strip is called "
Tanzaku[短冊(たんざく)]
" and we write a wish on that. In many regions, Tanabata is held on July 7th in Japan. But in Sendai, it is held on August according to the lunar calendar.
Other than the above tree, there are famous festivals such as
Yamagata Hanagasa Matsuri[山形花笠(やまがたはながさ)まつり]
(Yamagata City, Yamagata Pref.),
Chagu-chagu-umakko[チャグチャグ馬コ(うまっこ)]
(Morioka[盛岡(もりおか)] and Takizawa[滝沢(たきざわ)] City, Iwate Pref.) and
Sōma Nomaoi[相馬野馬追(そうまのまおい)]
(Sōma City, Fukushima Pref.).
Yamagata Hanagasa Matsuri is held from August 5 to 7 every year.
Hanagasa[花笠(はながさ)]
is a hat decorated with red flowers. Dancers hold Hanagasas and dance to a tune, "
Hanagasa Ondo[花笠音頭(はながさおんど)]
".

Yamagata Hanagasa Matsuri
Chagu-chagu-umakko is a horse procession held on the second Saturday in June. Horses are dressed up with gorgeous costumes and they march from Sōzen Shrine[蒼前神社(そうぜんじんじゃ)](Takizawa City) to Hachiman-gū Shrine[八幡宮(はちまんぐう)](Morioka City).
Chagu-chagu
is the onomatopoeia for sound of bells attached to horses. This sound has been designated as one of 100 Soundscapes of Japan.

Chagu-chagu-umakko
Sōma Nomaoi is a horse festival and is held for three days in late July. This festival consists of some ceremonies such as
Ogyōretsu[お行列(ぎょうれつ)]
(parade of Samurais riding on horses),
Katchū-keiba[甲冑競馬(かっちゅうけいば)]
(horse racing by Samurais),
Shinki-sōdatsusen[神旗争奪戦(しんきそうだつせん)]
(scramble for two flags by Samurais) and
Nomakake[野馬懸(のまかけ)]
(ritual in which players catch bareback horses).
Sōma Nomaoi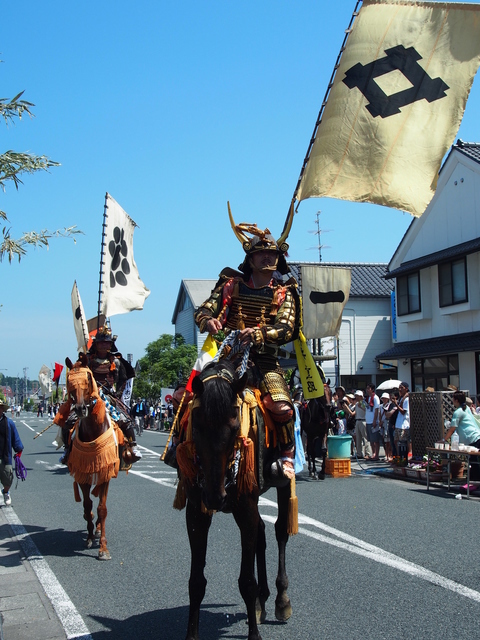 Sōma Nomaoi photo by photolibrary
Aomori Nebuta, Akita Kantō and Sōma Nomaoi have been designated as Important Intangible Folk Cultural Properties.
Other than these, there are many other fascinating festivals in Tōhoku Region. How about you visit
to experience festivals in Tōhoku?