Setsubun[節分(せつぶん)]
is a day before the beginning of the season but now, this term exclusively refers to the day before
Risshun[立春(りっしゅん)]
(spring beginning day).
Risshun falls on the day around February 4th. Risshun is not always February 4th and that sometimes falls on February 3rd or 5th(But that falls on February 4th from 1985 to 2024.) because the date of Risshun is calculated on the lunisolar calendar. Therefore, the date of Setsubun is around February 3rd.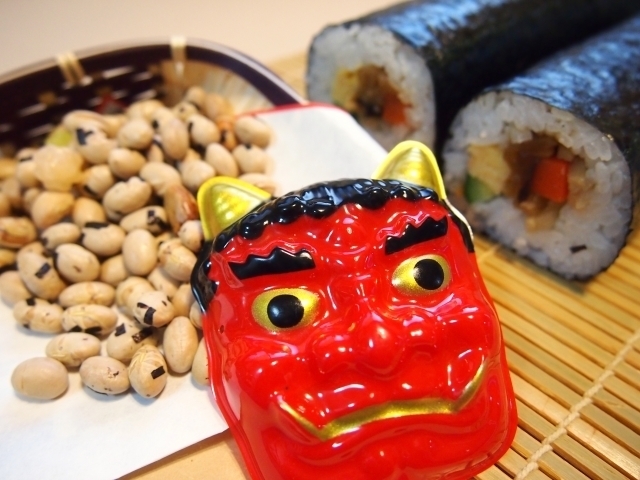 In ancient years, it was thought that evil spirits was easy to arise at the turning point of seasons and the ceremonies for driving away that were held on days of seasonal Setsubun. But the ceremonies are held only on Setsubun before Risshun now.
Among four Setsubun, the day before Risshun became more special than the others because it was thought that a year begins in spring and ends in winter. Therefore, Setsubun before Risshun was the last day of a year and it was the important day for starting a good new year.
On Setsubun, a custom called "
Mame-maki[豆撒き(まめまき)]
", which is the custom of throwing soy beans, is practiced for driving away evil spirits.
That derives from a court event "
Tsuina[追儺(ついな)]
" which had been introduced from China in the Heian Period(794-1185). In Tsuina, armed persons chased and drove away persons dressed up as
Oni[鬼(おに)]
(ogre). Oni expresses evil and plague and Tsuina was practiced for driving away them.
In Mame-maki, people throw roasted soy beans with saying, "
Oni wa Soto, Fuku wa Uchi![鬼は外、福は内]
(Out with ogres, in with good fortune!)". Soy bean was thought as having an effect against evil and there is a legend that Oni who lived in a mountain of Kyoto and did evil was slayed by soy beans thrown at its eyes.
After Mame-maki, people eat one more soy beans than their age for wishing their health. And there is a custom of eating a
Sushi
roll called "
Ehō-maki[恵方巻(えほうまき)]
" with facing toward the direction of good luck of the year.
And there is a custom of displaying
roasted sardine heads
and
holly leaves
on the house entrance on Setsubun. This is for driving away Oni by the holly thorns and smell of sardine.