Ryūhyō[流氷(りゅうひょう)]
(Drift ice) is the floating ice made of sea water on the sea.
In Japan, it is mainly seen at the coast of
Sea of Okhotsk[オホーツク海(かい)]
(The sea surrounded by Kamchatka Peninsula, Sakhalin Island, Kuril Islands and
Hokkaidō
) in Hokkaidō. Hokkaidō is the lowest latitude area where Ryūhyō can be observed.
Usually, that is seen from middle or late January and reaches at the coast in late January or February. After that, the sea is covered with ice and that begins to melt in Mid-March.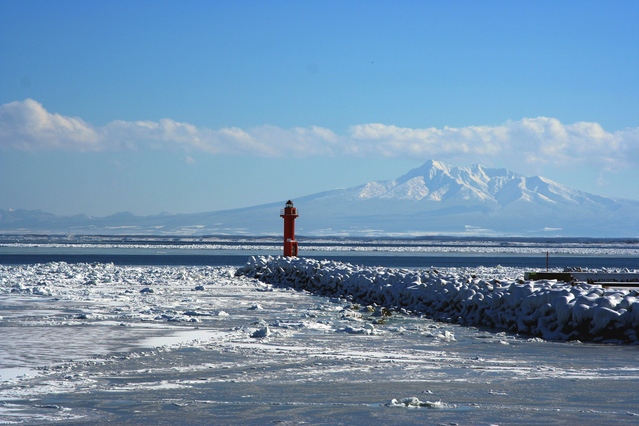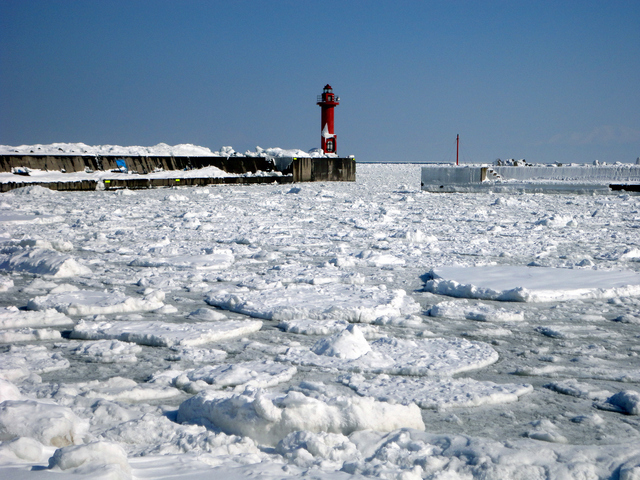 Ryūhyō at Abashiri by photolibrary
Ryūhyō of the Sea of Okhotsk is formed when the temperature of the sea water goes below
-1.8℃
. The sea of Okhotsk is easy to freeze because Amur River in Russia supplies the abundant pure water into the sea and lowers the salinity of that.
Ryūhyō carries the water of Amur River which is rich in phytoplankton and owing to that, the sea of Okhotsk is the abundant fishery. And Ryūhyō also carries the creatures such as some species of seals and
clione
which is a kind of snails. Clione is also called '
Ryūhyō no Tenshi[流氷の天使(りゅうひょうのてんし)]
(angel of Ryūhyō)' because the figure of the swimming clione is like an angel.
Ryūhyō is the one of the highlights of Hokkaidō travel in winter and there are various activities. The icebreaker for sightseeing operates in
Abashiri[網走(あばしり)] City
and
Monbetsu[紋別(もんべつ)]
City during the season. You can enjoy that the icebreaker goes with breaking ice powerfully and with any luck, you can also see seals and
Ojiro-washi[オジロワシ]
(white-tailed sea eagle).
And the sightseeing train "
Ryūhyō Norokko-gō[流氷ノロッコ号]
" for viewing Ryūhyō runs between Abashiri Sta. and Shiretoko-Shari Sta. on the JR Senmō Line.
In
Shiretoko[知床(しれとこ)]
(That is registered as a UNESCO World Natural Heritage site.), there is a tour which the participants walk on Ryūhyō and dive into the sea in a wet suit.
And you can learn about Ryūhyō, see clione and touch the real Ryūhyō ice throughout the year at
Okhotsk Ryu-hyo Museum[オホーツク流氷館(りゅうひょうかん)]
in Abashiri City and
Okhotsk Sea Ice Museum of Hokkaido[オホーツク流氷科学(りゅうひょうかがく)センター]
in Monbetsu City.
→
https://www.ryuhyokan.com/guide/en/index.html →
https://www.ms-aurora.com/abashiri/en/