Okinawa Prefecture[沖縄県(おきなわけん)]
is one of
47 prefectures
and located in Southwestern part in Japan(The westernmost point of Japan is in
Yonaguni Island[与那国島(よなぐにじま)]
, Okinawa). That consists of about 160 islands including
Okinawa Island
,
Ishigaki Island[石垣島(いしがきじま)]
and
Miyako Island[宮古島(みやこじま)]
which is located in the south part of
Nansei Islands[南西諸島(なんせいしょとう)]
surrounded by the Pacific Ocean and the East China Sea.
Its total area is 2,281.14㎢ and that is the 4th smallest prefecture after Kagawa, Osaka and Tokyo. But its range stretches over about 1,000km from west to east and about 400km from north to south. Its population is about 1440,000(in 2017). The prefectural capital is
Naha[那覇(なは)] City
.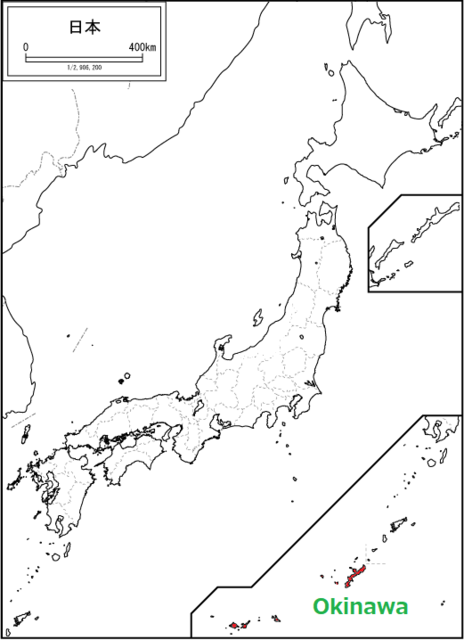 ⇒
Okinawa is the only prefecture where the whole area belongs to the subtropical zone. The temperatures are warm throughout the year(The average annual temperature is 23℃.) and seldom go down below 10℃ even in midwinter. It is hot and very humid in summer. From summer to autumn, many
Taifū[台風(たいふう)]
(typhoon) pass over Okinawa.
As mentioned above, Okinawa belongs to the subtropical zone and is isolated from other regions. Therefore, Okinawa has unique nature which is different from that of other regions.
Many tropical plants are seen in Okinawa, such as hibiscus,
Deigo[デイゴ]
(Erythrina variegata),
Gettō[月桃(ゲットウ)]
(Alpinia zerumbet),
Gajyumaru[ガジュマル]
(banyan) and
Adan[アダン]
(Pandanus odoratissimus). Deigo is the flower of Okinawa Prefecture.
From January to February, a species of
Sakura
,
Kanhi-zakura[寒緋桜(カンヒザクラ)]
blooms. Kan-hizakura of Okinawa blooms the earliest in Japan.
Habu[ハブ]
is a endemic poisonous snakes and that is widely distributed in Okinawa. Its skin is used as the body of
Sanshin[三線(さんしん)]
which is a Okinawa's musical instrument.
Yanbaru-kuina[ヤンバルクイナ]
(Okinawa rail) is an endemic bird only in the north part of Okinawa Island,
Yanbaru
. It has been designated as an endangered species. Yanbaru is a forest area and abundant nature remains. Other than Yanbaru-kuina, there are many endemic species such as
Noguchigera[ノグチゲラ]
(Okinawa woodpecker).
Yaeyama Islands[八重山諸島(やえやましょとう)]
is a southwest part of Seinan Islands and to which Ishigaki Island,
Iriomote Island[西表島(いりおもてじま)]
and other small islands belong. Yaeyama Islands is only habitat of
Kanmuri-washi[カンムリワシ]
(crested serpent eagle) in Japan. In Iriomote Island, there is the largest mangrove forest in Japan. And Iriomote Island is also known for
Iriomote-yamaneko[イリオモテヤマネコ]
(Iriomote cat) which is an endemic wild cat only in this island.
Kerama-jika[ケラマジカ]
lives in
Kerama Islands[慶良間諸島(けらましょとう)]
and is the smallest deer in Japan.
There are not many industries in Okinawa because it consists of remote islands. Therefore, Okinawa has the highest unemployment rate in Japan. The economy of Okinawa depends on tourism.
U.S. military has been being stationed since Japan's defeat in WWII and U.S. military bases also contribute to the economy. But military bases account for about 10% of the total area of Okinawa and about 74% of U.S. exclusive bases in Japan exist in Okinawa Prefecture. And crime by U.S. military personnel has become a problem.
As other industries, there is agriculture and tropical fruits and sugarcane are actively cultivated.
The population decreases in most parts of Japan but that increases in Okinawa. Especially, Ishigaki Island is popular as a migration destination.
Okinawa was not originally a part of Japan and was a kingdom called "
Ryūkyū Kingdom[琉球王国(りゅうきゅうおうこく)]
".
Ryūkyū people[琉球民族(りゅうきゅうみんぞく)]
who live in Okinawa has different cultures from
Yamato People[大和民族(やまとみんぞく)]
who live in other part of Japan.
Ryūkyū was dependent on China and traded with other countries including Japan. Therefore, Okinawa's culture has been influenced by other countries, especially China. These features appear in its architectures, ceremonies, customs, foods and arts. And American cultures have also penetrated among the people after WWII.
The popular sport in the world,
Karate[空手(からて)]
was originally martial art of Ryūkyū and that was created by combining Ryūkyū and Chinese martial arts.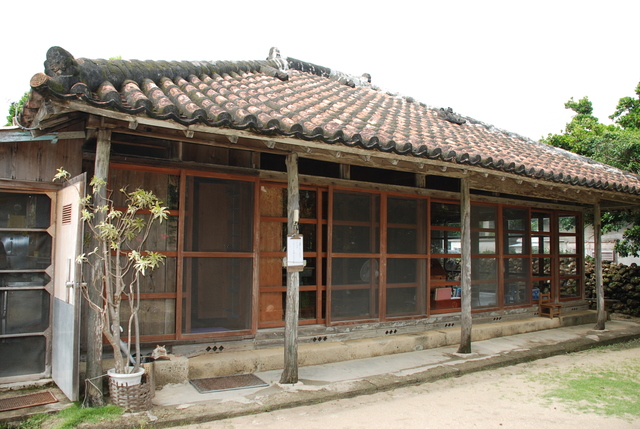 Okinawa's traditional house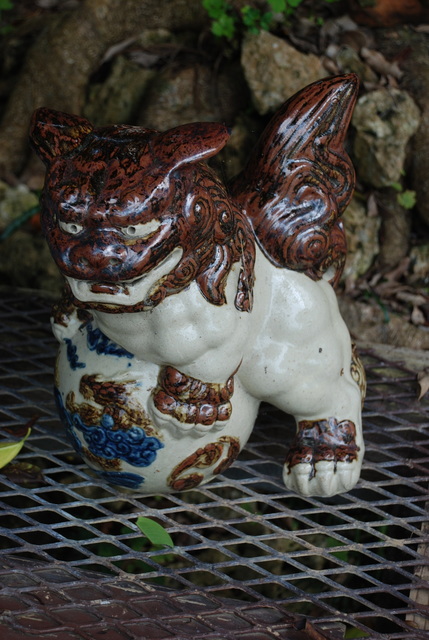 Shiisaa[シーサー]: That is a Okinawa's charm against evil and is often put on the gate and roof.
Okinawa has many unique dishes. The major dishes are as follows;
Sōki-soba[ソーキそば]: Wheat noodle topped with spareribs




Chanpurū[チャンプルー]: That is a sauteed various vegetables, pork, etc. There are some kinds. Especially, Gōya-chanpurū [ゴーヤチャンプルー] using Gōya[ゴーヤ](bitter gourd) is the most popular.


Taco-rice[タコライス]: Taco meat and vegetable on the rice



Awamori[泡盛(あわもり)]: Spirits made from indica rice


Chinsukō[ちんすこう]: traditional cookie of Okinawa


Saataa-andagii[サーターアンダギー]: Fried dough sweets

The famous traditional crafts are as follows;
Bingata[紅型(びんがた)]: Bingata is a dyeing method which developed under Ryūkyū Kingdom. Bingata was originally used for woman's formal wears and costumes for ritual. That is characterized by vivid color.



Tsuboya-yaki[壺屋焼(つぼややき)]: Tsuboya-yaki is a pottery made in Tsuboya District of Naha City and Yomitan[読谷(よみたん)] Village.


Ryūkyū glass[琉球ガラス]: It is characterized by bubbles in glass. That was originally made from empty bottle discharged from U.S. bases.
Okinawa is a popular summer resort. Islands of Okinawa is surrounded by coral reefs. Therefore, beautiful emerald green see and white beaches are seen throughout Okinawa. You can enjoy various marine activities such as diving, snorkeling, whale watching and cruising.
The sites of Ryūkyū Kingdom are popular as sightseeing spots. Especially, castles of Okinawa called "
Gusuku[グスク]
" are impressive and fascinating.
Gusuku Sites and Related Properties of the Kingdom of Ryūkyū Kingdom were registered as a UNESCO World Heritage Sites in 2000. That consists of five Gusuku sites(
Shuri Castle[首里城(しゅりじょう)]
Site,
Nakijin Castle[今帰仁城(なきじんじょう)]
Site,
Katsuren Castle[勝連城(かつれんじょう)]
Sites,
Nakagusuku Castle[中城城(なかぐすくじょう)]
Site and
Zakimi Castle[座喜味城(ざきみじょう)]
Site),
Tamaudun[玉陵(たまうどぅん)]
,
Seifaa Utaki[斎場御嶽(せいふぁーうたき)]
,
Sonohyan Utaki Stone Gate[園比屋武御嶽石門(そのひゃんうたきいしもん)]
and
Shikinaen Garden[識名園(しきなえん)]
.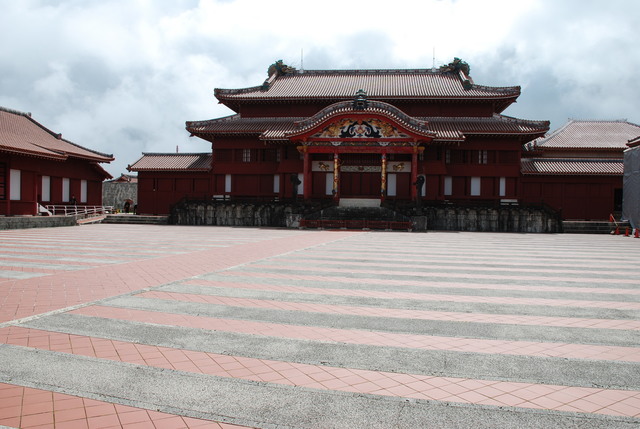 Main Hall of the Shuri Castle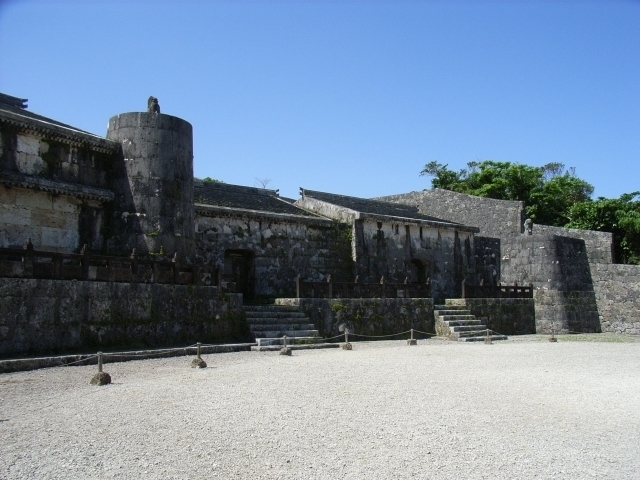 Tamaudun:That is a mausoleum of Ryūkyū kings.
Seifaa Utaki: Utaki[御嶽] is a sacred place for worshiping deities of Ryūkyū. Seifaa Utaki is the highest-ranked Utaki.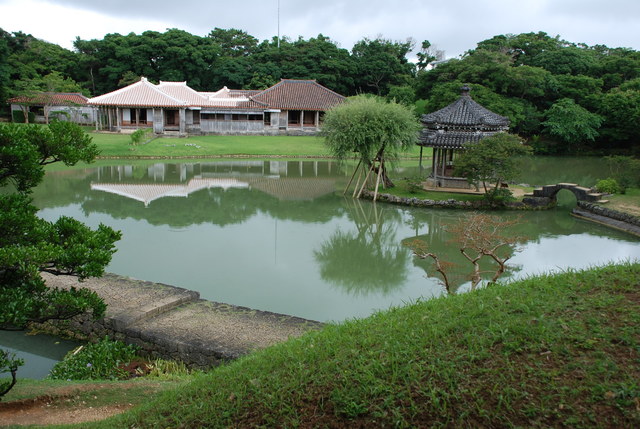 Shikinaen
Okinawa Churaumi Aquarium[沖縄美ら海水族館(おきなわちゅらうみすいぞくかん)]
is one of the most famous aquarium in Japan. Especially, it is known for a huge 7,500 cubic meters tank(35m long, 27m wide, 10m deep) where whale sharks, manta rays other big fishes swim.
In
Taketomi Island[竹富島(たけとみじま)]
near Ishigaki Island, traditional red-tile-roofed housings remain and have been designated as an Important Preservation Districts for Groups of Traditional Buildings. Buffalo cart ride is a popular activity in Taketomi Island and you can enjoy relaxing time while listing the music played by the guide.
Famous event includes
Haarii[爬竜(ハーリー)]
and
Eisaa[エイサー]
.
Haarii is a dragon boat race held for praying for large catches of fish on May 4th on the lunar calendar.
Eisaa is a
Bon dance[盆踊り(ぼんおどり)]
of Okinawa which is held in July 15th on the lunar calendar. Participants walk through the street while dancing, singing, beating drums and playing Sanshin.