Momiji[紅葉 or 椛(もみじ)]
are plants of maple family that are called "
Kaede[楓(カエデ)]
" in Japanese. Especially, Species of Kaede that has deeply laciniate leaves are called "Momiji".
Iroha-momiji[イロハモミジ]
is a native to East Asia and that is a representative Momiji of Japan. Leaves of Iroha-momiji change various color in autumn.
In
Minoo[箕面(みのお)]
City, Osaka Prefecture, sweet Tempura of Momiji is a specialty.
Momiji-manjyū[もみじ饅頭(まんじゅう)]
is a famous sweet in
Miyajima Island[宮島(みやじま)]
, Hiroshima Prefecture. That is a sponge cake filled with red bean paste and shaped like a Momiji.
And Momiji also indicates leaves of deciduous trees change various color like red, yellow, etc. before these shed their leaves in autumn and that is also called "
Kōyō[紅葉(こうよう)]
"(Chinese characters "紅葉" are read as Momiji or Kōyō).
Viewing Kōyō is called "
Momiji-gari[紅葉狩り(もみじがり)]
" and many Japanese enjoy Momiji-gari in autumn. Kōyō can be enjoyed during long periods and there are many Kōyō spots in Japan because the land of Japan is long from north to south and is mountainous.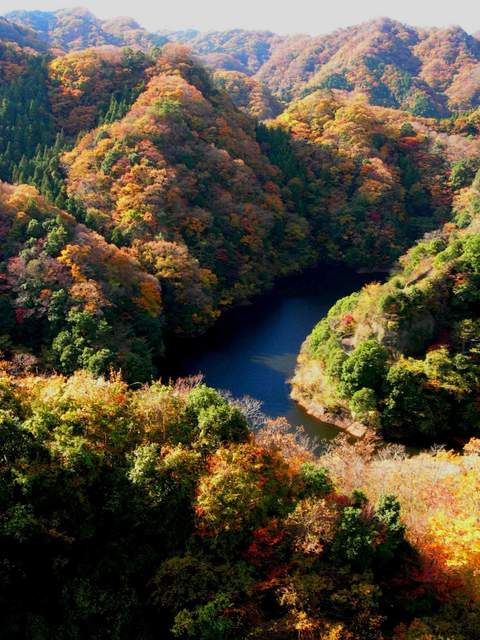 Ryūjin Valley[竜神峡(りゅうじんきょう)], Ibaraki Pref.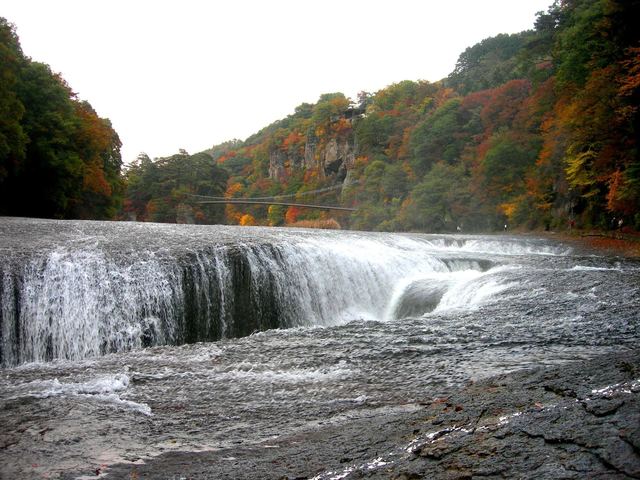 Fukiware Falls[吹割の滝(ふきわれのたき)], Gunma Pref.
Akiu Fall[秋保大滝(あきうおおたき)], Miyagi Pref.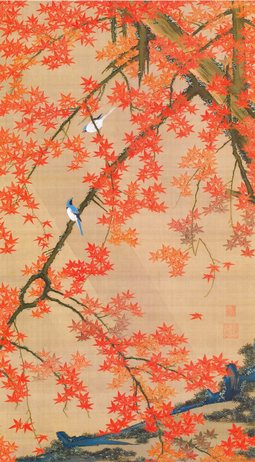 Kōyō shōkin-zu[紅葉小禽図](Birds and Autumn Maples)
by Jakuchū Itō[伊藤若冲]

The famous spots of Kōyō are as follows:
Mt. Taisetsu[大雪山(たいせつざん)], Hokkaidō; This spot can be enjoyed the earliest in Japan(in September).


Oirase Stream[奥入瀬渓流(おいらせけいりゅう)], Aomori Prefecture; That is a scenic spot of beautiful stream and moss.


Nikkō[日光], Tochigi Prefecture


Shōsen-kyō Valley[昇仙峡(しょうせんきょう)]; Kōyō with Picturesque rocks are beautiful.


Kōran-kei Valley[香嵐渓(こらんけい)], Aichi Prefecture


Kyoto; Kyoto has many Kōyō spots of Japanese gardens in temples.


Momijidani Park[紅葉谷公園(もみじだにこうえん)] at Miyajima Island, Hiroshima Prefecture


Yaba-kei Valley[耶馬渓(やばけい)], Ōita Prefecture; You can enjoy Kōyō with oddly-shaped rocks.