Maneki-neko[招き猫(まねきねこ)]
is a cat-shaped doll which makes a gesture of raising a paw and beckoning. And that is mainly made of ceramic or papier-mache. Maneki[招き](the base form of the verb is "maneku[招く]") means "beckon" and Neko[猫] means "cat".
Maneki-neko is known as a lucky charm. Because its beckoning gesture is associated with beckoning luck (Japanese way to beckon is to turn a palm toward a person and swing it down.).
Maneki-neko raising its right paw brings monetary luck. And Maneki-neko raising its left paw brings prosperous business. Therefore, the former is often put on lottery counters and the latter is often put in shops and restaurants.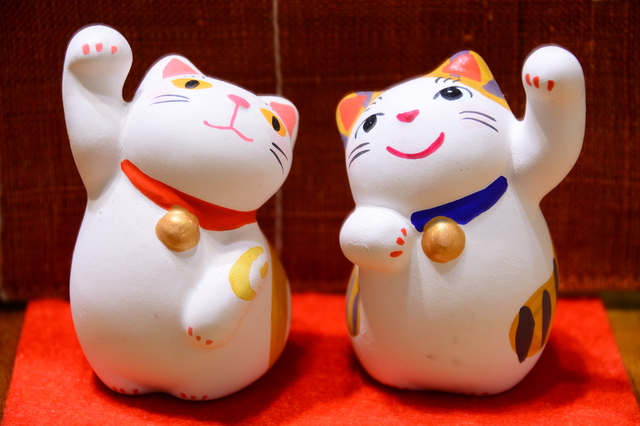 Maneki-neko is commonly a white or calico cat but there are various color versions such as black, red and gold.
And many Maneki-nekos have a
Koban[小判(こばん)]
(oval gold coin). By the way, a Japanese proverb says, "
Neko ni Koban[猫に小判(ねこにこばん)]
(literally means, "To give a cat a coin")". This has the same meaning as "
Pearl before swine
" in English(
Buta ni Shinjyu[豚に真珠(ぶたにしんじゅ)]
in Japanese).
There are some theories about the origin of Maneki-neko.
According to one theory, in the Edo Period(1603-1868), an old woman who lived in
Asakusa[浅草(あさくさ)]
, Edo(present Tokyo) abandoned her cat owing to poverty. After that, the cat appeared in her dream and said, "You can catch luck if you make my doll.".
The woman made dolls of the cat made of a pottery called "
Imado-yaki[今戸焼(いまどやき)]
", which was made around Asakusa, and sold them at
Asakusa Shrine
. Then they sold well and became popular.
According another theory,
Naotaka Ii[井伊直孝(いいなおたか)]
, who was the second lord of
Hikone Domain[彦根藩(ひこねはん)]
(Hikone is a city of Shiga Prefecture.), happened to pass in front of
Gōtoku-ji[豪徳寺(ごうとくじ)]
Temple(Setagaya City, Tokyo) on the way back from hawking.
Just then, a white cat of the temple(Its name was Tama.) beckoned him in front of the gate. Naotaka decided to stop by the temple. As soon as he take a rest at the temple, thunderstorm came.
Naotaka was glad not to get wet thanks to this cat. He made a large donation to the temple. Although Gōtoku-ji had been a poor temple but it grew the large-scale temple. Naotaka also made Gōtoku-ji a family temple of Ii.
After the death of the cat, a hall for the cat and the cat dolls, which raised a paw, came to be made. In Gōtoku-ji, Maneki-neko is called "
Manegi-neko[招福猫児(まねぎねこ)]
".
A mascot of Hikone City,
Hikonyan[ひこにゃん]
, which is a white cat with Samurai helmet, was created based on this story.
This was the castle of Ii and has been designated as the National Treasure. Ii family had been serving Ieyasu Tokugawa[徳川家康(とくがわいえやす)] before Ieyasu held the rein of government and the Edo Period, when Tokugawa family governed Japan, started. Therefore, Ii family was often appointed to the very important position as a noble samurai family.