Kairakuen[偕楽園(かいらくえん)]
is a Japanese garden located in
Mito[水戸(みと)] City
, Ibaraki Prefecture. That is one of the three greatest gardens in Japan, along with
Kenrokuen[兼六園(けんろくえん)]
(Kanazawa City, Ishikawa Pref.) and
Kōrakuen[後楽園(こらくえん)]
(Okayama City).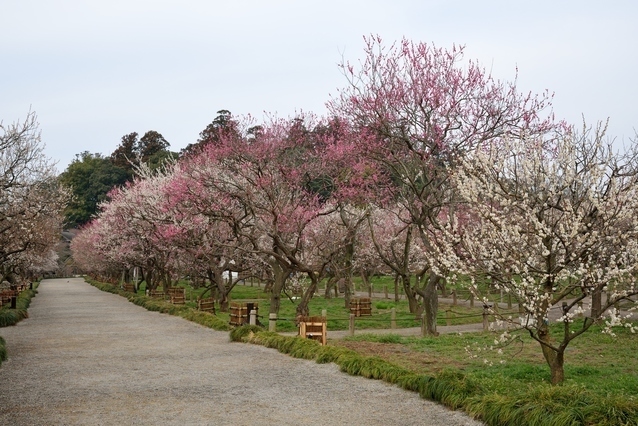 Kairakuen
by photolibrary
Kairakuen is classified as
Daimyō garden[大名庭園(だいみょうていえん)]
which is the Japanese gardens made by
Daimyō[大名(だいみょう)]
(feudal lord). That was founded by the 9th lord of Mito Domain,
Nariaki Tokugawa[徳川斉昭(とくがわなりあき)]
in 1842. Especially, a rest house in the garden,
Kōbuntei[好文亭(こうぶんてい)]
was designed by Nariaki himself and it is said that he held the party of
Waka[和歌(わか)]
(Japanese poetry) there.
The name "Kairakuen" derives from words by a Chinese philosopher,
Mencius[孟子]
, "古の人は民と
偕
に
楽
しむ、故に能く楽しむなり(The governors would enjoy together with people, therefore they could have a lot of fun.)".
The garden was built on a hill with the view of the
Lake Senba-ko[千波湖(せんばこ)]
. So, you can enjoy the large garden surrounded by nature with the superb view of the lake.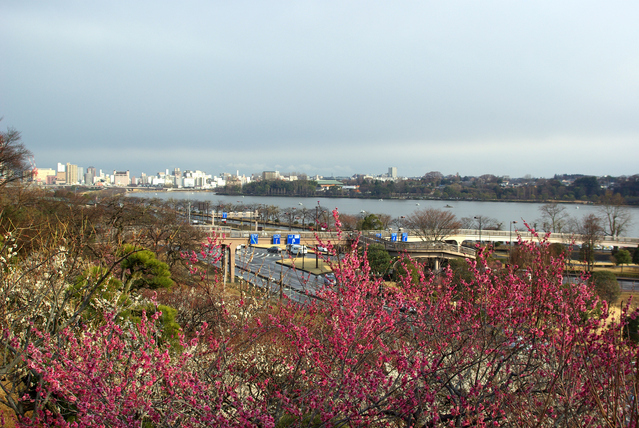 Lake Senbako from Kairakuen
by photolibrary
Kairakuen is famous for its
Ume[梅(うめ)]
(Japanese apricot) and about 3,000 trees of about 100 different varieties of Ume are planted. From late February to March, the garden is filled with Ume blossoms and many people visit to see the beautiful blossoms. Only during that season, a temporary train station, Kairakuen Station opens near the garden.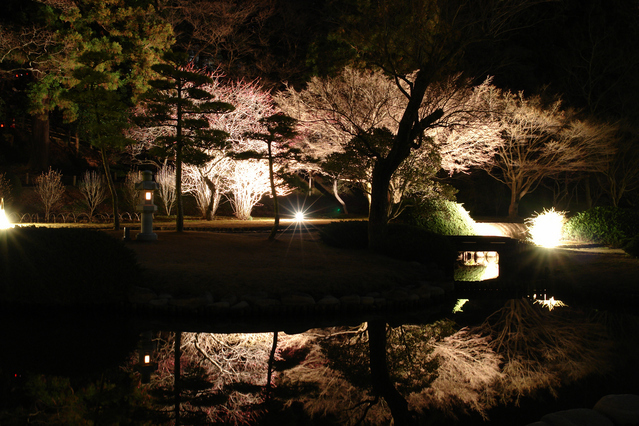 Night scene of Ume blossoms at Kairakuen
by photolibrary
And not only Ume but you can enjoy green
bamboos
and flowers of azaleas in summer and flowers of
Hagi[萩(ハギ)]
(bush clover) in autumn.
Sakon no Sakura: That is a famous Sakura tree in Kairakuen.
by photolibrary
⇒
http://www.koen.pref.ibaraki.jp/foreign_language/en/index.html