Jyuhyō[樹氷(じゅひょう)]
is an ice which covers with a tree. It is formed when a temperature goes below -5°C and supercooled water is sprayed with a tree. Jyuhyō grows on the windward side of the tree and it is white because it contains air bubbles. It is called "
soft rime
" in English.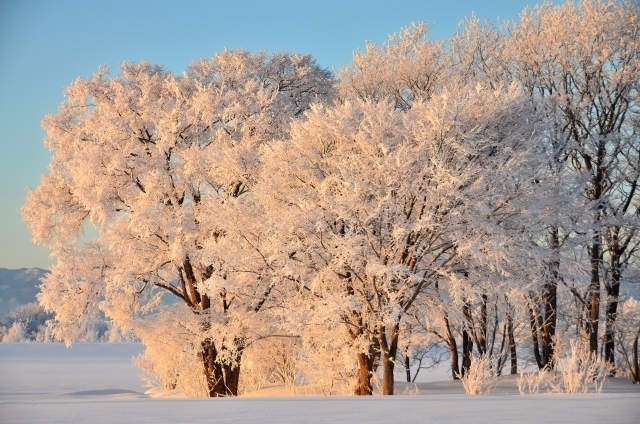 Jyuhyō at Hokkaidō
Jyuhyō which completely covers with a tree is sometimes called "
ice monster
" or "
snow monster
".
In Japan, usual Jyuhyō is seen in mountains or northern areas. But ice monster is only seen in several mountains such as
Zaō Moutains[蔵王連峰(ざおうれんぽう)]
(Yamagata / Miyagi Pref.),
Mt. Hakkōda[八甲田山(はっこうださん)]
(
Aomori Pref.
),
Mt. Hachimantai[八幡平(はちまんたい)]
(Akita / Iwate Pref.),
Mt. Moriyoshi[森吉山(もりよしざん)]
(Akita Pref.),
Mt. Hyōnosen[氷ノ山(ひょうのせん)]
(Hyōgo / Tottori Pref.),
Mt. Ibuki[伊吹山(いぶきやま)]
(Shiga / Gifu Pref.).
Especially, ice monsters of Zaō Moutains and Mt. Hakkōda are famous. In these mountains(also Mt. Hachimantai, Mt. Moriyoshi), there are communities of
Ōshirabiso[オオシラビソ]
(a.k.a.
Aomori-todomatsu[アオモリトドマツ]
) which is a fir native to eastern Japan. Ōshirabiso is an evergreen conifer and does not shed their leaves. Moreover, it has dense leaves. Therefore, Ōshirabiso is easy to get ice and tends to form big Jyuhyō.
Zaō Moutains and Mt. Hakkōda is easy to access because they are located near the main cities and you can reach the view points of ice monsters by aerial cableways. And you can enjoy skiing and snowboarding through the snow monsters. And in Zaō, snow monsters are illuminated at night from late December to early March.