Hana-shōbu[花菖蒲(ハナショウブ)]
(Iris ensata)" is a plant which blooms in early summer. That is commonly and simply called "
Shōbu[菖蒲(ショウブ)]
". The word "Shōbu" also refers to
sweet flag
. This is decorated on the day of
Tango no Sekku[端午の節句(たんごのせっく)]
(May 5th). They are different plants, former is a plant of Iridacea and the latter is a plant of Acorus. But their leaves resemble each other.
Furthermore, there is a complicated story. There is an Iridacea plant (as well as Hana-shōbu) called,
Ayame[菖蒲 or 文目(アヤメ)]
(Iris sanguinea). Ayame is written as "菖蒲" as well as Shōbu. Moreover, The word "Ayame" refered to "Shōbu(sweet flag)" in ancient times.
There are some differences between Ayame and Hana-shōbu. Ayame grows in dry grounds and blooms from late April to early May.And its flower has mesh patterns in the center. Hana-shōbu grows in wetlands and blooms from late May to late June.
Kakitsubata[燕子花 or 杜若(カキツバタ)]
(Iris laevigata) also resembles Hana-shōbu. Its flower has white lines in the center part but Hana-shōbu has yellow lines.
Hana-shōbu(hereinafter referred as to "Shōbu") is a garden species of
No-hana-shōbu[ノハナショウブ]
which is native to East Asia. There are many species produced at home and abroad now.
Species of Shōbu made in Japan is mainly classified into the following 4 types;
the Edo[江戸(えど)](They have been made around Tokyo in the Edo Period, there are various forms.),
Higo[肥後(ひご)](From Kumamoto, they have been made for potted plants),
Ise[伊勢(いせ)] (From Mie, they have been made for potted plants),
Nagai[長井(ながい)](They were discovered in Nagai City, Yamagata).
There are many spots of Shōbu throughout Japan. And many Japanese painters drew that. In Tokyo,
Meiji Shrine Gyoen Garden[明治神宮御苑(めいじじんぐうぎょえん)]
(Sibuya City),
Horikiri Shōbu-en[堀切菖蒲園(ほりきりしょうぶえん)]
(Katsushika City) and
Mizumoto Park
(Katsushika City) are famous as spots of Shōbu.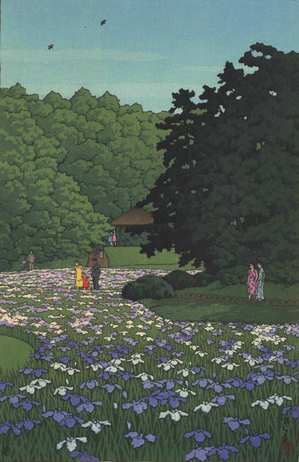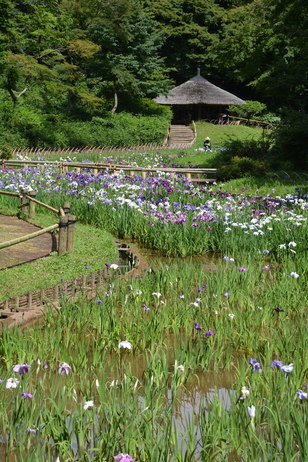 Left: Hasui Kawase, "Shōbu-da in Meiji Shrine"[川瀬巴水『明治神宮 菖蒲田』(かわせはすい『めいじじんぐう しょうぶだ』)]
Right: Shōbu garden at Meiji Shrine Gyoen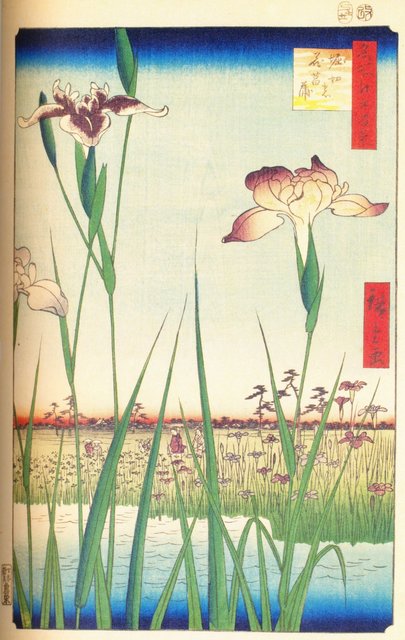 Hiroshige Utagawa, "Horikiri no Hana-shōbu
from 100 Famous Views in Edo[江戸名所百景 - 堀切の花菖蒲(えどめいしょひゃっけい - ほりきりのはなしょうぶ)]"

Kiitsu Suzuki, "Hana-shōbu ni ga-zu(Irises and Moth)
[鈴木其一『花菖蒲に蛾図』(すずききいつ『はなしょうぶにがず』)]",
The Metropolitan Museum of Art, USA