While
Sakura[桜(サクラ)]
bloom, many people go to
Hanami[花見(はなみ)] or Ohanami
.
Hanami is to go viewing flowers, mainly Sakura but also
Ume[梅(ウメ)]
(Japanese apricot) or others. And it also refers to feast under Sakura trees. While viewing Sakura, people eat and drink (especially alcohol).
The spots of Hanami are crowded in the season of Sakura blooming. Some people secure the best place in advance. And in the case of Hanami at work, keeping the place is often the first task of new employees because that season is the period of recruits' enrollment in Japan.
The history of Hanami is old and that dates back to the Nara Period(710-794). At the time, nobles viewed Ume blossoms which had been introduced from China and composed
Waka[和歌(わか)]
(Japanese poem) under the tree. In the Heian Period(794-1185), Sakura blossoms became popular than Ume and the Hanami of Sakura begun.
In the Edo Period(1603-1868), the custom of Hanami spread among common people. The 8th Shōgun[将軍(しょうぐん)] of Tokugawa shogunate,
Yoshimune Tokugawa[徳川吉宗(とくがわよしむね)]
(1684-1751) had Sakura trees along the
Sumida River[隅田川(すみだがわ)]
planted and encouraged Hanami to the people.
That was because of the prevention of the flood. Yoshimune thought that Sakura trees took roots and reinforced the ground of bank, and the ground was trod by the people who went there to do Hanami. The bank of Sumida River is a popular spot of Hanami in Tokyo even now.
We do Hanami not only in the daytime but at night. Viewing Sakura at night is called "
Yo-zakura[夜桜(よざくら)]
". Illuminated Sakura in the dark is fantastic and has different charms from the daytime Sakura.
There are many Hanami spot in Japan. For example, in Tokyo,
Chidorigafuchi[千鳥ヶ淵(ちどりがふち)]
,
Ueno park[上野公園(うえのこうえん)]
,
Shinjyuku-gyoen[新宿御苑(しんじゅくぎょえん)]
, and so on. Its period is from late March to early April in Tokyo.
The Mint
in Osaka is open to the public only during the Sakura blooming season and people can enjoy walking between about 130 kinds of Sakuras.
And I would like to recommend you
Hirosaki Castle[弘前城(ひろさきじょう)]
in
Aomori
. Here, you can entertain the landscape of Sakura and castle. At night, these are illuminated. And if you go when blossoms fall, you can see the pink-colored moat (It's called
Hana-ikada[花筏(はないかだ)]
). Sakura at Hirosaki Castle will be at peak in late April.
 ⇒ 
http://www.hirosaki-kanko.or.jp/en/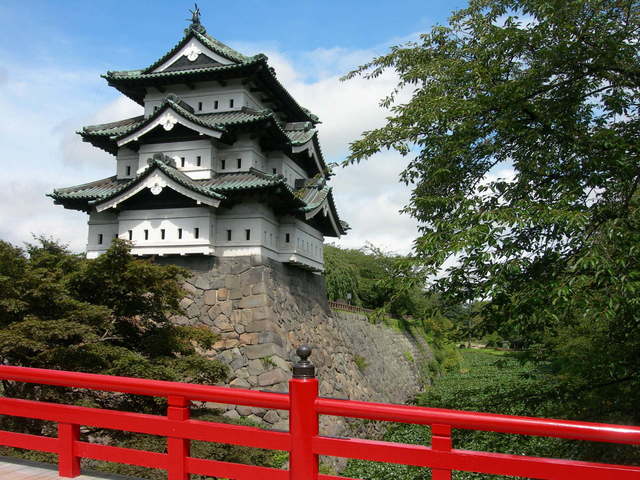 Hirosaki Castle, Hirosaki, Aomori