Hachi[ハチ]
(1923-1935) was a
Akita-inu[秋田犬(あきたいぬ)]
(Japanese Akita) and his story was known widely throughout the world. He is often called "
Hachi-kō[ハチ公(こう)]
"("
Kō
" is a title that expresses affection).
He was born in the present
Ōdate[大館(おおだて)]
City, Akita Prefecture on November 10, 1923. The area around Ōdate is the place of Akita-inu's origin.
Hidesaburō Ueno[上野英三郎(うえのひでさぶろう)]
who was a professor of faculty of agriculture,
Tokyo Imperial University
(the present University of Tokyo) had two Pointers named "John" and "S" but wanted to have a Japanese dog. And Hachi-kō which was about 50 days old was sent to Ueno's house through the introduction of his student.
Ueno petted Hachi-kō. He had meals with Hachi-kō and Hachi-kō slept under his bed. Ueno went to and from the university with Hachi-kō on foot and they went to
Shibuya[渋谷(しぶや)]
Station near their house when Ueno went on a business trip.
On May 21, 1925, Ueno collapsed collapsed from cerebral hemorrhage at the university and passed away. Hachi-kō did not eat anything for a while after Ueno's death. Ueno's wife,
Yae[八重(やえ)]
could not succeed to his house. Therefore, she could not keep Hachi-kō anymore. Hachi-kō was kept in other's houses but he sometimes run away from the houses and went to Shibuya where there had been Ueno's house. So, he was left in
Kikusaburō Kobayashi[小林菊三郎(こばやしきくさぶろう)]
who was a gardener and was taken care of by Ueno. Kobayashi cared him well and he finally settled down in new house(Kobayashi's house was in
Yoyogi[代々木(よよぎ)]
near Shibuya).
But Hachi-kō went to Shibuya Station everyday from Kobayashi's house and continued waiting Ueno's return. In 1932, Hachi's article by a scholor of Japanese dog,
Hirokiti Saitō[斎藤弘吉(さいとうひろきち)]
was published in a newspaper and Hachi-kō became famous as
Chūken Hachi-kō [忠犬(ちゅうけん)ハチ公]
(That means faithful dog Hachikō.). In 1934, a statue of Hachi-kō was constructed in front of Shibuya Station and he also took part in the unveiling ceremony.
On March 8, 1935, he was found dead near Sibuya Station. He continued to go to Shibuya Station until his death. As a result of the autopsy, he died of
filariasis
and and there were skewers of Yakitori[焼き鳥(やきとり)](chiken BBQ) in Hachi's stomach. In 2011, it was announced that he also had terminal cancer as a result of reexamination.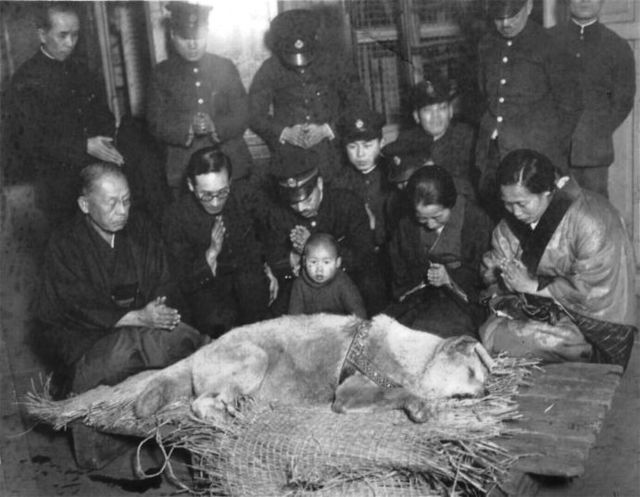 Death of Hachi-kō
Specimen of Hachi's liver, heart and lung
at Museum of Agriculture, University of Tokyo
In 1941, Hachi's statue at Shibuya was donated and melted down during WWII because of a metal shortage. After WWII, 1948, statue was rebuild. Hachi's statue is also built at Ōdate that was his hometown. And Ueno & Hachi's statue is built at
Hisai[久居(ひさい)]
, Mie Prefecture that was Ueno's hometown. And newly, in 2015, another Ueno & Hachi's statue was built in University of Tokyo.
You can see Hachi's left ear of the top photo and his statue at Shibuya is dropping. This is because a stray dog bit it.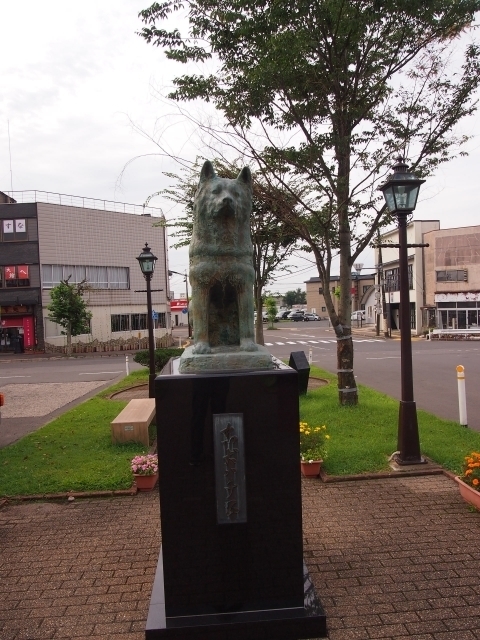 Statue of Hachi-kō in front of Ōdate Station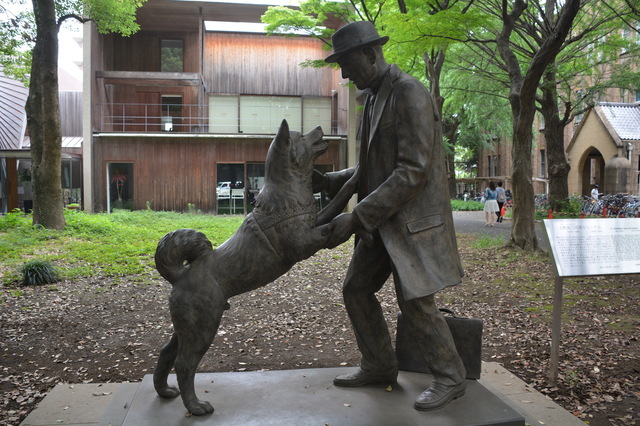 Statue of Ueno & Hachi-kō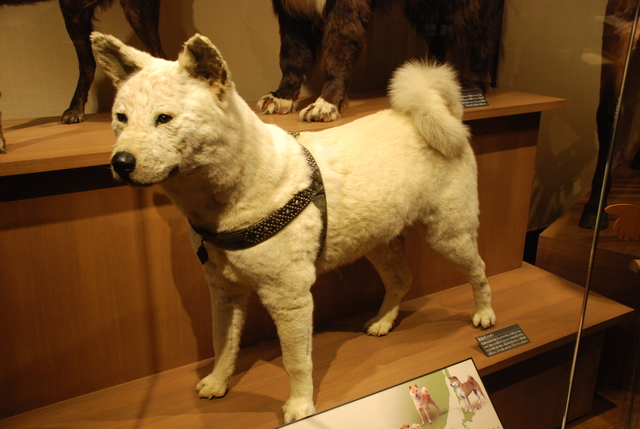 Stuffed specimen of Hachi-kō
at National Museum of Nature and Science,Tokyo
In 1987, a Japanese film "
Hachi-kō Monogatari[ハチ公物語(ものがたり)]
" was released and "
Hachi: A Dog's Tale
"(2009) starring Richard Gere is a remake of this film. But in the latter film, a
Shiba-inu[柴犬(しばいぬ)]
played the role of Hachi's childhood.
And Hachi-kō appeared on a movie "
Alps Daishō[あるぷす大将(だいしょう)]
" in 1934.
Now, Hachi rests in peace next to his master, Ueno in the
Aoyama Cemetery[青山霊園(あおやまれいえん)]
, Tokyo.