It is said that Japanese can not take long vacations. That's right. But in addition to summer vacations and new year holidays, we have holidays in spring that is called "
Golden Week[ゴールデンウィーク]
".
Golden Week is a period of holidays from late April to early May in Japan. In this period, we have four pubic holidays.
4/29 
Shōwa Day [昭和の日(しょうわのひ)]
(The holiday commemorating Shōwa emperor's birthday.)
5/3 
Constitution Memorial Day [憲法記念日(けんぽうきねんび)]
(The holiday commemorating the enforcement of the Constitution of Japan on May 3rd, 1947)
5/4 
Greenery Day [みどりの日]
(Greenery Day was originally set on April 29th from 1989 to 2006 after Shōwa emperor's death.)
5/5 
Children's Day [こどもの日]
(In the day, a seasonal ceremony celebrating boys, "Tango no Sekku[端午の節句(たんごのせっく)]" is held.)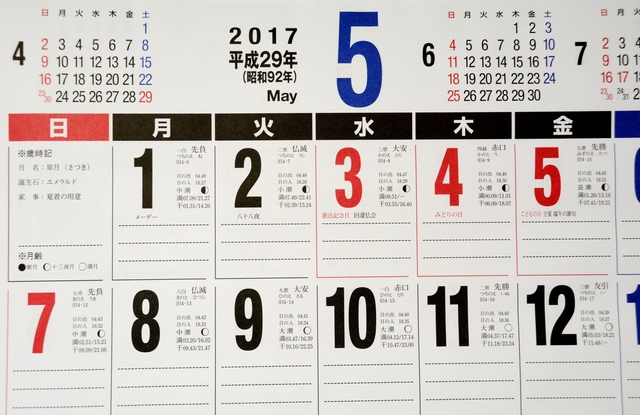 Many Japanese take vacations during Golden Week. So, business districts in big cities like Tokyo are not crowded during this period.
But on the contrary, highways & railways to local area are crowded. And maybe it is difficult for you to make reservations for hotels,
Shinkansen[新幹線(しんかんせん)]
(bullet train) and flights. Even if you can reserve the hotel, the charge becomes high.
And traffic jams inevitably occur on the highway during the Golden Week and the famous sightseeing spots are very crowded. Therefore, I can not recommend you to travel to Japan during Golden Week.
Some Japanese go abroad,like Asian or Pacific resort especially Hawaii. Many Japanese imagine Hawaii at first when they heard the word "overseas".