Ehō-maki[恵方巻(えほうまき)]
is a kind of
Sushi
roll which is eaten as a lucky food on
Setsubun[節分(せつぶん)]
(the day before
Risshun[立春(りっしゅん)]
, the spring beginning day).
Ehō-maki is a long Sushi roll and seven ingredients are used because of getting luck from seven gods of fortune "
Shichifukujin[七福神(しちふくじん)]
". Eel or conger, cucumber, fried egg,
Kanpyō[干瓢(かんぴょう)]
(dried gourd),
Shiitake[椎茸(シイタケ)]
(a kind of mushroom) and
Denbu[田麩(でんぶ)]
(seasoned and powdered fish) are often used as ingredients of common Ehō-maki.
Ehō-maki is eaten with facing toward the direction of good luck of the year. The direction is called "
Ehō[恵方(えほう)]
" which is determined based on
Eto[干支(えと)]
(Chinese astrological calendar). The Ehō of 2017 is north-northwest(That of 2018 is south-southeast).
When you eat it, you have to eat it in silence with thinking of your wish and you must not cut it because the cutting is associated with cutting luck.
It is said to originate from Osaka and it was mainly eaten in Kansai Region centering on Osaka on Setsubun. But the custom of eating Ehō-maki on Setsubun has become to spread throughout Japan since about 2000 because Ehō-maki was gradually reported by media and it has been sold in convenience store.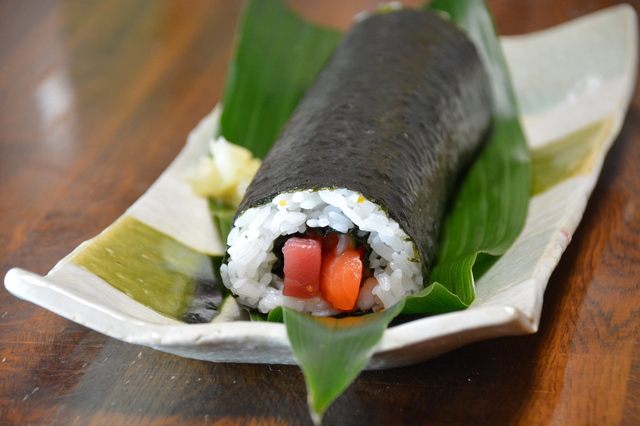 Recently, not only Ehō-maki but also Swiss roll for Setsubun is sold at the season because it is similar to Ehō-maki in shape and it is popular with children.