Chichibu Yomatsuri[秩父夜祭(ちちぶよまつり)]
(Chichibu Night Festival) is a night festival held from December 1st to 6th in Chichibu City, Saitama Prefecture.
That festival is a ceremonial festival of
Chichibu Shrine[秩父神社(ちちぶじんじゃ)]
. It is said that the festival dates back to Kanbun[寛文(かんぶん)] Era(1661~72) of the Edo Period and that developed with silk market held in front of the shrine.
Chichibu Yomatsuri is one of three most famous float festivals along with
Gion Matsuri[祇園祭(ぎおんまつり)]
(Kyoto) and
Takayama Matsuri[高山祭(たかやままつり)]
(Gifu). On December 2nd and 3rd, gorgeous floats are pulled through the streets with shinto festival music and fireworks are set off.
The festival of December 2nd called "
Yoimiya[宵宮(よいみや)]
" is the eve of main festival. On that day, four floats called "
Yatai[屋台(やたい)]
" go around the streets from the morning and they are carried to Chichibu Shrine.
The main festival on December 3rd is called "
Taisai[大祭(たいさい)]
". Four Yatai and two
Kasaboko[笠鉾(かさぼこ)]
(float with umbrella-shaped decorations) are pulled through the streets from the morning. The festival reaches its climax on the night and it is so spectacular and impressive that the huge and heavy floats are drawn up the steep slope called "
Dango-zaka[団子坂(だんござか)]
" and fireworks bloom in the sky. And there are many stalls during the festival.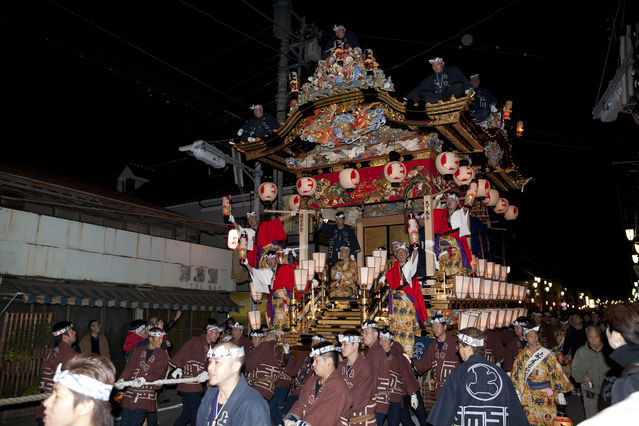 In
Chichibu Matsuri Kaikan[秩父まつり会館]
, the materials of Chichibu Yomatsuri are exhibited and you can see Yatai and Kasahoko throughout the year.
Chichibu Yomatsuri has been designated as a National Important Intangible Cultural Property and that was registered as an Intangible Cultural Heritage by UNESCO in 2016.